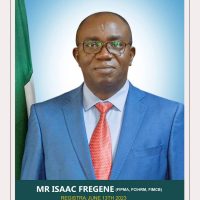 Mr. Isaac Fregene
Registrar
The Registrar, Mr. Isaac Fregene, is an astute administrator with over thirty (30) years' administrative experience. He holds a B.Ed (Hons.) Mathematics degree from the University of Benin, Benin City, Edo State.     He also holds an MBA (MIS) degree of the University of St. Mark and St. John, Plymouth, United Kingdom.
Mr. Fregene has attended various management programmes in the United Kingdom, United States of America, and Dubai in the United Arabs Emirates. He has won several laurels, amongst which are, State Honours Award for outstanding service by the Benue State NYSC Directorate 1991/1992,  a two times winner of the Chief Sawyerr award for the best non-academic staff in the PTI for 2002 and 2005, and conferment of the Justice of Peace (JP) by the Delta State Governor etc.
Mr. Fregene who joined the services of the Petroleum Training Institute on 13th October 1992 has had an eventful career in the Institute. He was the Head of the Examination and Records Division 1995-1997, Head Appointments, Promotion and Discipline Division of the then Personnel Department 1998-2001, Head, Administration Unit of the Industrial Continuing Education 2001 -2002, Head, Staff Development and Training Division of the Human Resources Development Department 2003 – 2005, Head, Council Affairs Division of the Registrar's Office/Secretary to Top Management Meeting 2006 -2010 and Head, Human Resources Development Department 2015 – 2023. He has also served on several committees in the Institute.
Mr. Fregene is a member of the following professional bodies;
Fellow and Certified Human Resources Professional of the Chartered Institute of Human Resources Management.
Fellow and Accredited Management Consultant of the International Management Consultants Board.
Fellow of the Institute of Professional Managers and Administrators of Nigeria.
Chartered Professional Manager of the Nigerian Institute of Management.
Member of the Chartered Institute of Loans and Risk Management.
Apart from administrative duties, Mr. Fregene is a renewable energy enthusiast with special interest and practical skills in solar energy, having received training from the Solar Energy International (SEI) based in Paonia Colorado, United States of America.  He is happily married with children.