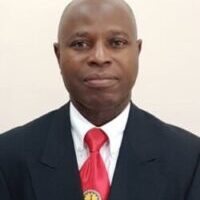 Engr. Dr. Michael A. Adegbite
Director of Offshore Technology and Energy Centre
Dr. Michael Adedokun Adegbite is the Director and Chief Coordinator of Offshore Technology and Energy Centre in Petroleum Training Institute, Nigeria. His interest includes performance of welded joints, utilization of materials, corrosion control, asset integrity management, offshore technology, renewable / green energy and, learning and development. He has supervised graduate theses and conducted notable commissioned projects. Michael holds a B.Sc in Metallurgical and Materials Engineering, M.Sc in Welding Engineering, M.Sc in Offshore and Ocean Technology, and PhD in Corrosion Engineering. He designed, developed and successfully deployed a novel submerged jet impingement target to study flow accelerated preferential weld corrosion and inhibitor evaluation in a typical offshore production system.
Dr. Adegbite joined the services of Petroleum Training Institute on 02 March, 1989, as Lecture IV in the then School of Welding (now, Department of Welding Engineering and Offshore Technology. He has served in various capacities in and outside the Institute over the years; including:
July 1998 – July 2000: Head, Department of Welding and Underwater Operations
February 2007- February 2011: Head, Dept. of Welding Engineering and Offshore Technology
May 2017 – April 2021: Coordinator, Authorized Training Body (ATB) Welding Technology
February 2018 – August 2021: Head, Quality Management System Department
January 2021 – August 2021: Director of Engineering
September 2021 till date: Director and Chief Coordinator of Offshore Technology and Energy Centre
Dr. Adegbite was the co-ordinator (2005 to 2011) of the National Centre for Non-Destructive Testing and Country (Nigerian) Representative for International Atomic Energy Agency (IAEA) Project (RAF/8/043) – Promoting Self-reliance and Sustainability of Non-destructive Testing Facilities. He had also served in a number of technical teams on various specialized projects / consultancies, particularly in the oil and gas facilities, manufacturing and welding / inspection skills development.
Dr. Michael Adegbite is a Registered Engineer and President, Institute of Non-Destructive Testing (INDT) Nigeria. He is a Fellow of the Nigerian Society of Engineers, as well as, Nigerian Metallurgical Society and Nigerian Corrosion Association (NiCA). Furthermore, he is "Life Member" of Nigerian Institute of Welding and American Society for Non-Destructive Testing; and an active member of Association for Materials Protection and Performance (AMPP), (formerly, National Association of Corrosion Engineers (NACE)), USA, among others.
Dr. Michael A. Adegbite chaired Warri Branch of the Nigerian Society of Engineers in 2009 and 2010, and served in many national and Presidential Committees; including the Iron and Steel Development Committee. He also chaired the Society of Petroleum Engineers Section 104 (2009 / 2010) and received many Distinguished Awards, including the prestigious SPE Projects, Construction and Facilities Africa Region Award in 2019.
He was selected Society of Petroleum Engineers Distinguished Lecturer (SPE DL) 2021 / 2022. He is also a Youth Ambassador for Peace, Universal Peace Federation and Youth Federation for World Peace.
Michael's marriage to Oluyemisi is blessed with Adeoluwa, Ademola and Adeniran.