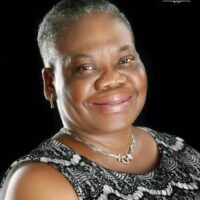 Dr. (Mrs) Oriri A. Omorodion
Director PTI Consultancy Services Ltd.
Dr Oriri Asemota OMORODION was promoted to the position of Managing Director of the PTI Consultancy Services Limited on January 1, 2022, by the Institute's Governing Council. She was the Acting Director of Science prior to her promotion. She has also been the Chief Coordinator of PTI Consultancy Services Limited and Chief Coordinator of the Industrial Continuing Education.  Dr O. A. Omorodion was on the 19th of October, 1992, employed by the Institute, as a lecturer in the department of Industrial Safety and Environmental Technology.
Dr O. A. Omorodion has a Doctorate degree in Zoology (Parasitology) from Ambrose Alli University, Ekpoma, a Master's degree in Medical Microbiology and Parasitology from the University of Ife, Ile-life, and a Bachelor of Science degree in Zoology, from the University of Benin. Also, she is an Occupational Health and Safety expert with a NEBOSH International Diploma in Occupational Health and Safety, and a certified NEBOSH Practical Assessor.
Dr Omorodion's scholarly activities has seen her author 31 publications in Safety and Parasitology. Notable ones being: Analysis of Emergency Response and Rescue Operation using Fuzzy Expert System, (2021);The Mismatch of Students' Anthropometric Data with Ergonomic Designs of Learning Workstation is a Risk Factor for Musculoskeletal Disorders(2019); Modelling of Welding Hazards in An Industrial Workshop Using Fuzzy Method(2017); Malaria Infections in Pregnancy Related Death among African Women(2010).; Chemokine's Responses to Ascaris Lumbricoides Sole Infection and Co-Infection with Hookworm among Nigerians (2014).; Prevalence of Intestinal Parasitic Infection among Tertiary Institution Students and Pregnant Women in South-South, Nigeria. (2012) among others.
She is a member of Institute of Safety Professionals in Nigeria, Nigeria Environmental Society, and American Society of Safety Professionals Dr Omorodion is married with children. She loves traveling and reading.