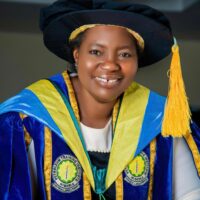 Dr.(Mrs) Tina O. Isichei
Director of Research & Development
Dr. Tina Isichei graduated as one of the best in her class before her 19th birthday with a B.Sc Industrial Chemistry from the University of Benin in 1986. She later went back to her alma mater for her M.Sc. in Industrial Chemistry (1999) and later a Ph.D. in Environmental/ Analytical Chemistry (2012).
She started her career with the Savannah Sugar Company Limited in Numan, Adamawa State in 1986 as a youth corps member, and later worked as a Laboratory Technologist till 1992 when she voluntarily resigned her appointment and joined the services of the Petroleum Training Institute.
At PTI, she spent her first year at the Petroleum Analysis Laboratory, before moving to the General Studies Department where she taught Foundational Chemistry. She was later posted to the Industrial Safety & Environmental Technology Department where she taught courses in Environmental Chemistry for several years. Her last posting as a teaching staff was to the Science Laboratory Technology Department as one of the pioneer staff.
Her PhD thesis was on product development from the Water hyacinth — a perennial weed constituting a nuisance and hazard in many parts of Nigeria, especially the Niger Delta area, and across the globe. She is a firm advocate for the circular economy — passionate about developing products from waste materials as she believes that every waste material has an intrinsic value. As an academic, she has published papers in national and international journals and has attended and presented papers in local and international conferences. She is also a reviewer for many international journals.
Her contributions and roles in the institute include E- learning Coordinator, pioneer member of the QMS team that drafted the Institute's quality policy, leader of the research team on Raw Materials and Production chemicals for the petroleum industry among others. She recently led the team that delivered the PTI anthem to the institute. She has grown through the ranks in the Institute and was recently promoted/appointed as the Director of Science.
Dr Isichei is a highly sought-after speaker within and outside the Institute and in   professional and religious circles. She is a Fellow of the Chemical Society of Nigeria (CSN) and Institute of Chartered Chemists of Nigeria (ICCON), Member of American Chemical Society (ACS), Society of Petroleum Engineers (SPE) and Nigerian Environmental Society (NES). Dr Isichei is happily married with children and is passionate about mentoring teenagers, youths and women to maximize their full potentials.