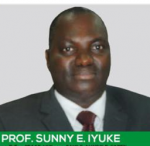 I am Prof S. E. Iyuke
Chief Executive
I am pleased to showcase the capabilities of PTI as clearly articulated here in our various programmes below and look forward to receiving from you and / or your organization on any or our programmes. Our services can be tailored to match your unique needs; training courses are also delivered in-house at the clients request. We have the technology, expertise and manpower to meet your need
Breaking News
Part Time and Post HND
ApplicationForm!!!
The closing date for the sales
of form now extended till
31st Dec., 2018 hurry and
submit your online
application form here.
CLICK TO VIEW LIST OF DOWNLOAD INFORMATION
The Petroleum Training Institute is a specialized Institution with a mandate to train indigenous manpower to meet the technical and administrative demands of the oil and gas and other allied industries in Nigeria and Africa. Organizations and Individuals have the opportunity to choose from a training bouquet of our specialized courses which are designed to provide quality solutions that advance organizational goals and /or personal development objectives.
Read More
The Conference centre is a modern complex specially designed with training facilities to suit both higher and lower cadre of personnel in the petroleum and allied industries in the following areas : Seminars , Symposia , Conferences ,Workshops
Facilities includes
An ultra modern conference hall with a sitting capacity of 600 and fully with multimedia and air conditioning

Well equipped restaurant and bar of international standard

Well furnished accommodations, Large car park, Laundry, 24 hours security

Cyber café, Gift Shop, Sporting facilities
The PTI e-library infrastructure and services is a complete digital library solution on a full meshed integration of over seventy (70) computer systems with a broadband penetration for Internet access. Its situated in the Library building at the main campus. The alexandra software enables patrons ( Library users) to search books and articles in the library and place order for circulation while the ebsco host subscriptions contains digitized books, research materials for all authorized library user to access from the comfort of their hostel, home, offices or on the go via the Internet.
Visit the Library today to obtain your patron credentials
OUR PROGRAMMES & SERVICES
OUR ESTEEMED MANAGEMENT TEAM
BE TRAINED AND CERTIFIED, JOIN US!!!
OUR OFFICIAL CONTACT
Postal adress: PMB 20, EFFURUN, DELTA STATE - NIGERIA
Phone: (+234) 8126971129, 07080600568, 08037234529
Email: admission@pti.edu.ng, itsupport@pti.edu.ng, info@pti.edu.ng