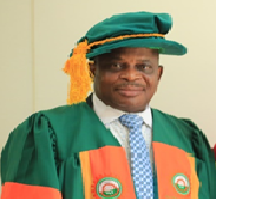 Engr. S. I. Ukwuaba
Director of Engineering
(over 30 years)
Engr. Samuel Ifeanyi Ukwuaba, was promoted as Director of Engineering (DOE), on 1st January, 2019, by the PTI Governing Council at its 136th meeting. Until his appointment, he was the Acting Director of Engineering.
Engr. S.I. Ukwuaba who was born in 1960, joined the services of the Petroleum Training Institute on February 1992, as then lecturer III in the Mechanical Engineering Department. He holds a Bachelor of Engineering from the University of Nigeria, Nsukka, in 1985, and Master of Engineering from the University of Benin in 2014. Prior to joining the employ of the Institute, he worked with the National Iron Ore Mining Company, Itakpe, Kogi State from 1988-1992, as a shift Engineer incharge of maintenance for earth moving equipment.
Engr. Ukwuaba, a seasoned Training Officer and erudite administrator has put his experience to bear in the development of the Institute. He has 12 academic papers to his credit. Some of the papers include: "Tidal Power Potentials in Nigeria, an Investigative Study of Port Harcourt Estuaries", "Comparative Study of the Reliability of some Lubricating Oils in Nigeria Market". He has attended International and National conferences and workshops where he presented 18 incisive seminar papers and 23 journals. Besides, Ukwuaba has written five books which includes: "Vibration and Vibration Control, Maintenance Management; Fluid Mechanics and Hydraulics; Engineering Design, and First Course in Fluid Mechanism and Hydraulics".
The Director of Engineering is a member of several Professional Bodies such as fellowships, Nigerian Society of Engineers, Nigerian Institute of Mechanical Engineers, Institute of Registered Administrative Managers of Nigeria. Also, Member Society of Petroleum Engineers, American Society of Mechanical Engineers, Council of Registered Engineers of Nigeria, just to mention but a few. He has won numerous awards in recognition of his contribution to the development of human capital.
Engr. S.I. Ukwuaba is happily married with a wife and children.