Mr. Abubakar-Sadiq Kwarbai Tanimu – Registrar
Registrar
Mr. Abubakar-Sadiq Kwarbai Tanimu – Registrar
October 17, 2017

Posted by:

pti-s.admin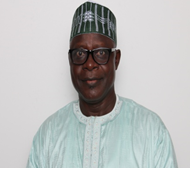 Mr. Abubakar-Sadiq Kwarbai Tanimu was appointed the Registrar of the Petroleum Training Institute, Effurun by the Honourable Minister of State, Petroleum Resources with effect from 13th October 2016.
Mr. A. S. K. Tanimu who until his appointment was the Deputy Director in charge of the Human Resources Development Department of the Registry Directorate of the Institute. He had garnered a lot of experience spanning various Departments of the Registry from Exams and Records Division, Public Affairs, Pension and Insurance Division and Council Affairs.
Prior to his Transfer of Service from Kaduna State government, Mr. Tanimu was a frontline Print and Broadcast journalist having worked for over 15years in various media organizations in the country including Triumph Newspapers, Concord Group of Newspapers, The Democrat Newspaper and the Kaduna State Media Corporation as a Reporter, Editor and Director of News and Current Affairs.
An alumnus of Ahmadu Bello University, Zaria where he was conferred with a Bachelors degree in History/Political Science. He is a member of the following professional bodies, Nigerian Institute of Management (NIM); Institute of Personnel Management of Nigeria (IPMN); and Advertising Practitioners of Nigeria (APCON).
He attended many management courses in Nigeria and abroad including those at Royal Institute of Public Administration (RIPA), Robert Gordon University and Oil and Gas Skills Institute, Cairo.
Mr. Tanimu has a publication to his credit titled "Waves of Freedom. A Broadcasters Guide to Development Reporting", published by Radio Netherlands, Hilversum, Holland.
He was appointed Ambassador of Goodwill by Mr. Bill Clinton of the United States of America in 1992.
He is a honorary member, Board of Advisors of the American Biographical Institute.
The new Registrar is happily married with children.