Mr. Aliyu Magaji Mafindi – Director, Finance and Accounts
Mr. Aliyu Magaji Mafindi – Director, Finance and Accounts
October 16, 2017

Posted by:

Ferguson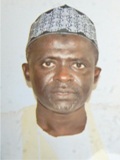 Mr. A. M. Mafindi was appointed by the PTI Governing Council, as conveyed in the letter of appointment signed by the Registrar and Secretary to Council, Abubakar S. K. Tanimu. He assumed duty at the Petroleum Training Institute on August 1, 2017.
He was born on August 28, 1968, at Tudun Wada, Zaria, Kaduna state. Following his primary and post primary education, he proceeded to the Ahmadu Bello University (ABU) Zaria. Between 1998 and 2015, Mafindi bagged a Master of Science (MSc) in Business Administration, Master of Business Administration (MBA), and a Bachelor's degree (B.Sc) in Business Administration.
PROFESSIONAL MEMBERSHIP
Mafindi is a Certified National Accountant (CNA) ANAN, 2007; Chartered member of Nigerian Institute of Management (NIM); Fellow, Chartered Institute of Cost Management Accountants (ClCMA); Member, Institute of Management Consultant (IMe) amongst others.
WORKING EXPERIENCE
Mr. Aliyu M. Mafindi started his working career at the Ahmadu Bello University, Zaria in 1994. From then till date, he garnered 23 years working experience. He was the finance officer, as a representative of the Bursar in the Institute for Agricultural Research (IAR), National Animal Production Institute (NAPRI) and others.
Besides, he also served in different acting capacities as Chief Accountant, Budget and Expenditure and Accountant, Capital Expenditure.